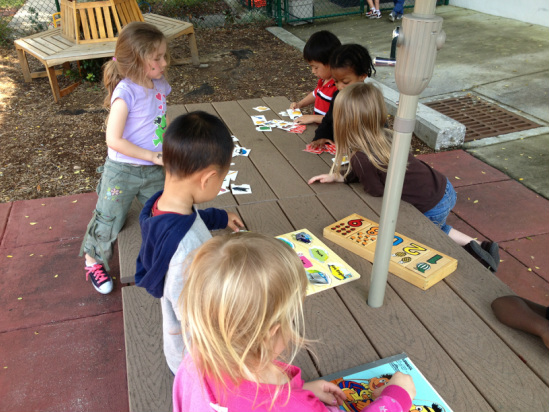 Curriculum
The Creative Curriculum for Preschool (Dodge, Colker, and Heroman) is used as the core curriculum for all the classes. The curriculum includes goals in all areas of development:

Social/emotional:
to help children achieve a sense of self, take responsibility for themselves and others, behave in a prosocial way by showing empathy and getting along with the other children and adults;
Physical:
to help children develop large muscles and fine motor skills through activities indoors and outdoors;
Cognitive:
to help children become confident learners by providing the experiences and materials to allow them to think, explore, question, and problem-solve.
Language:
to help children listen and speak, and then to make sense of written language and print through the alphabet, writing letters and words.

We also use the book, I Love You Rituals by Becky Bailey, to enhance our interactions with the children.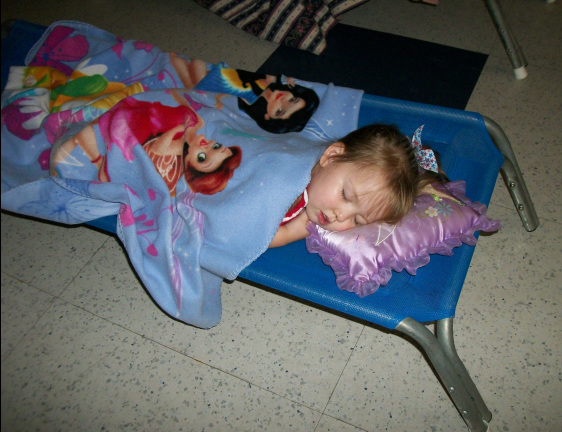 Discipline Policy
At First Presbyterian Preschool we try to maintain a loving, caring atmosphere. Children are encouraged to be responsible and to respect others. Teachers use positive approaches to help the children to behave constructively, including:
being actively involved with the children

redirecting a child who is unsettled

planning ahead to prevent problems

encouraging appropriate behavior

maintaining consistent, clear rules

encouraging the children to identify and verbalize feelings

planning appropriate activities for the children

If a child loses self-control, we may remove the child from the area with the other children to help him/her regain control and composure. We try to keep in close touch with parents to work out effective methods to help improve a child's behavior. This may involve addressing any special needs that could be the cause of hurtful or disruptive behavior. Parents are required to sign our printed Discipline Plan at enrollment.
2017-18 Tuition and Fees


The fee schedule listed below is for children in the two younger classes, the Two and Three year old class (known as the T.C. Bear class) and the Threes and Fours class. For children who are enrolled in the Voluntary Prekindergarten program (VPK) please see the tuition plan below for the extended-day hours at Preschool.

Annual Supply Fee $175.00 due September 1st
Full-time tuition $700.00 per month
Breakfast $33.00 per month, $1.50 per day
Lunch $62.70 per month, $2.85 per day





2017-2018 Extended-Day Fees


(for students enrolled in VPK, 9.15am – 12.15pm daily)

Children who are enrolled in the State of Florida VPK program at First Presbyterian Preschool are eligible for 540 hours of class time for which there is no charge. The calendar for the VPK days and hours will be distributed by the Director at the beginning of the school year.

The private-pay fees for the Extended-Day hours at Preschool, before and after the morning VPK hours, are:

Extended-Day tuition $505.00 per month,

Additional Extended-Day fees for VPK students:

Annual Supply Fee $175.00 due September 1st
Breakfast $33.00 per month, $1.50 per day
Lunch $62.70 per month, $2.85 per day

After the VPK year is over in May 2017, the 4s and 5s tuition for the summer months will be the standard Preschool monthly tuition of $695.00 for June and July, and a prorated amount for August 1 – 18, 2017.


Registration
If you are interested in registering your child at Preschool, please contact Andra Copeland, Director, at
(850) 222-4587 or e-mail
director@firstprespreschool.net.
She will be happy to arrange for a parent visit. Enrollment forms are provided when we are sure that there is an appropriate opening for your child.
Parent Handbook


Click here to download a copy of the First Presbyterian Preschool Parent Handbook 2017-18

Click here to download a copy of the Holiday Schedule.

Location and Contact